Interview with Katy Poyner, the Founder of Anaphe for The Story Exchange by Victoria Flexner
She Left Her Job in Air Traffic Control to Launch a Luxury Silk Brand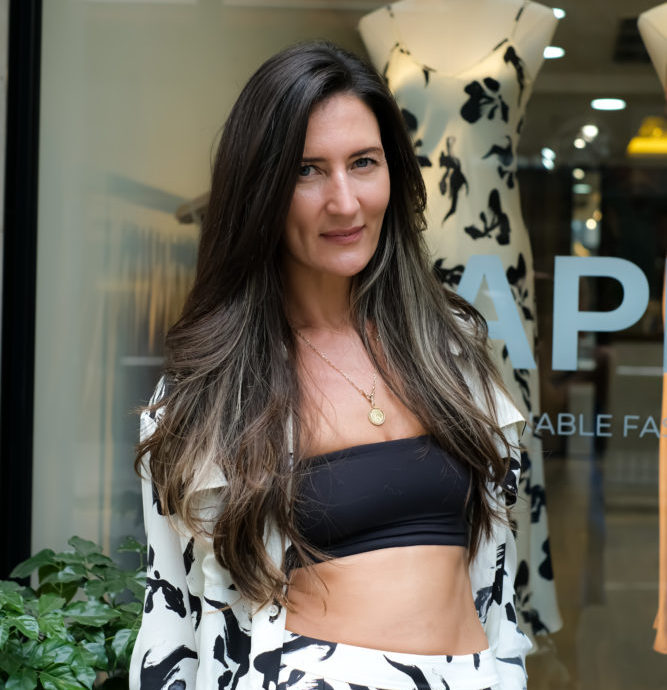 Katy Poyner had a dream of creating a clothing line that was sustainable and kind to the environment, as well as the individuals making the products. In 2019, Hong Kong-based Poyner left her job as an air traffic controller and took a surprising leap into the world of fashion, launching her line of luxury silk womenswear, Anaphe. Her pieces are designed to stand the test of time, not to be disposed of when next season's clothes come out. Poyner is also passionate about creating a transparent supply chain that gives back to causes that are near and dear to her heart. Currently, Anaphe donates a portion of its profits to TonToTon, a Vietnamese organization working to remove plastics from the ocean. 
Here's our lightly edited Q&A, from The Story Exchange 1,000+ Stories Project.
Tell us more about why you started your business.
I arrived in Hong Kong to find fast fashion everywhere, and clothes made from natural materials were so hard to find for a reasonable price. That's when I started working on Anaphe. We need to be more conscious about what we are purchasing. We use our brand as a platform to educate our customers on various matters that we need to take action on to enable a future for us and our planet.
How is your business different from others in your industry?
Every time we release a collection, we support a cause that is close to us and has impacted our lives. For example, we created an elephant print when we heard that an elephant nature park in Chiang Mai, Thailand, was struggling to feed the elephants during Covid, when they had no paid volunteers. I had volunteered at the sanctuary in the past and felt I needed to do something to help. Our team created a print with all the profits going to the sanctuary to purchase food buckets for the elephants. 
Tell us about your biggest success so far.
This really depends on how you quantify success. For us, our biggest success is when someone purchases an item from our clothing line, looks forward to wearing it, and feels empowered, strong and ready for anything life throws their way when they do. As the founder, when I attend events and ladies come up to me and say, "I love the dresses I have from your brand," "I wear Anaphe on repeat," or "I can't wait to style my dress through every season," this is what success looks like for us. It pushes us to keep going when we have setbacks. It drives our passion and gives us the ability to do more for the projects that we support.
What is your top challenge and how have you addressed it?
With my background in air traffic control, I had absolutely no business knowledge going into this, so it was a huge learning curve. I had to teach myself everything and learn from other brands around me. Luckily in Hong Kong, there's a great support network for female business owners. 
Additionally, it's very difficult to protect the brand from being copied. When I arrived in Hong Kong, there were no silk brands in the same price range or styles. It took a lot of marketing and hard work to show that silk can be worn daily and that it's not just for "bedtime" which is what a lot of the community here believed. We worked with other brands to create pop-ups and help each other but eventually, some of those brands left us and created copy brands of Anaphe using our supplier details and designs. This was a very stressful situation. However, they will always be one step behind us, and you have to constantly evolve and continue to be true to yourself and the brand. My advice here would be to find people you really trust to work with.
Have you experienced any significant personal situations that have affected your business decisions?
This is sometimes a shock for some people to learn that I was an air traffic controller and I moved away from this to create Anaphe. I do sometimes feel judged by others. 
What is your biggest tip for other startup entrepreneurs?
I do wish I had more business knowledge before starting the brand, because once you are going it's very hard to play catch up. Getting a good accountant from the beginning would have been a better choice and having a meeting to understand the requirements of having a limited company. I know now but when I started, I was basically winging it.
How do you find inspiration on your darkest days?
I look to my team, take a walk, and reset my mind. When I feel burnt out, I look to things that make me happy – spending time with friends, going to the beach, hiking with my rescue dog. All these things are good for my mental health.
What is your go to song to get motivated on tough days?
It's very hard for me to pinpoint a specific song as the genre of music I listen to is quite eclectic. I have always loved classic Ibiza dance music such as "You've Got the Love" but for me it really depends on my mood on any given day. If I had to pick just one song that can always turn my day around it would be David Bowie's "Let's Dance."
Who is your most important role model?
My parents had businesses growing up and they taught me patience and kindness –two attributes that you will find throughout the Anaphe team. We really do have the best team anyone could ever ask for. ◼
Instagram: @AnapheOnline
Check out our Advice + Tips for entrepreneurs starting-up
Watch our latest videos
Subscribe to our podcast